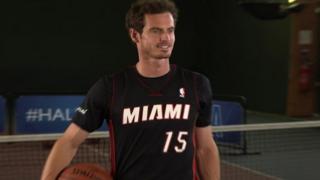 Murray's NBA half-court challenge
Former Wimbledon champion Andy Murray tests his basketball shooting accuracy with the NBA's half-court challenge.
Murray gets so close with each of his five attempts, but in the end is unable to secure a spot on the NBA UK leaderboard.
The British number one lays down the challenge for fellow Grand Slam winner Serena Williams.
Real Madrid's Gareth Bale is still leading the competition after netting three shots.
Pictures courtesy of NBA UK.