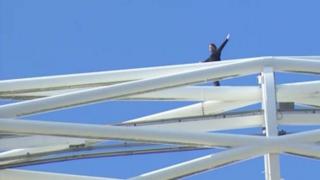 World first on Wembley arch
This man is the first in the world to climb the 130 metres to the top of the arch at Wembley stadium.
Obviously this is really dangerous unless you have got lots of experience, the right safety equipment and a well trained team to help you.
But James Kingston from Southampton spends a lot of time climbing up very tall structures - cranes, bridges and buildings around the world.
He had special permission from the owners of the arch and he is very well trained.
He had to wear a special harness to make sure he couldn't fall off or hurt himself.
It's hard to believe but he actually used to be scared of heights.
But he managed to overcome his fears through training.
He says the view from the top was incredible.
There are still many other buildings around the world that he would still like to climb.
Listen to him talk about what it felt like and how he prepared.