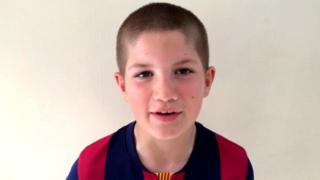 Who will win Champions League Final?
Tonight Juventus take on Barcelona in the UEFA Champions League final in Berlin.
They've both won league titles and cups in their home countries, so it'll be a treble victory for the winning team.
Barca have won the competition before, back in 2009, under previous manager Pep Guardiola.
Current boss Luis Enrique will be hoping to do the same in his first session in charge.
Barcelona are the favourites to win the final.
Juve have never won the tournament but that's not stopping their coach Massimiliano Allegri from feeling confident.
The clubs' last meeting in the League's knockout stage came in 2003, when Juventus won 3-2 on aggregate in the quarter-finals en route to the final, where they lost to Milan.
Kick off is at 7.45pm on ITV1.