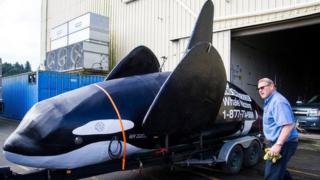 Fake whale used to scare sea lions
Officials in Oregon in America have recruited the help of a huge fake killer whale to help them to chase away a group of sea lions.
Large numbers of sea lions pass by the town of Astoria every year, but this time they have failed to move on as they normally would.
This has caused problems for the people who live near the port in the town because the sea lions are eating the fish that are usually caught by the locals.
But harbour officials came up with a plan to help scare them away. They used a giant fake orca whale which is almost ten metres long.
Ricky has been finding out more about this whale of a tale...