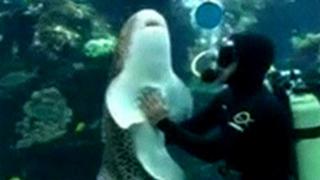 Leopard shark gets underwater cuddle
A worker in an aquarium on the Pacific island of New Caledonia has been filmed hugging a leopard shark while taking a break from cleaning the tank.
The very relaxed shark appears to be enjoying itself rolling over and enjoying a good scratch and hug.
A representative at the aquarium said the shark often engages with aquarium keepers in a harmless way.
Pictures courtesy of Aquarium des Lagons New Caledonia.