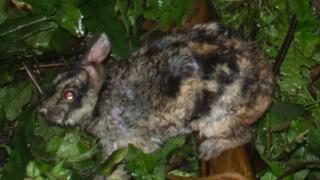 Rare striped rabbit spotted in Vietnam
A rare and secretive rabbit has been held and photographed by scientists for the first time since it was discovered.
The Annamite striped rabbit lives in the forests of Laos, in Vietnam, and is named after the Annamite Mountains that it calls home.
It was first discovered by scientists almost 20 years ago, and has rarely been seen since.
A group of researchers from the University of East Anglia went on a three-month expedition to Vietnam to try to find the striped rabbit, and by chance found one on the first night they were there!
Researcher Sarah Woodfin was part of the team and said: "I didn't expect that I would ever see one up close. I thought that if I was very lucky, I might see one from a distance in the forest. I certainly never expected that I would have the opportunity to hold one of these magnificent animals. I was utterly delighted."
She added: "Nothing is known about the Annamite Striped rabbit and it is absolutely fascinating to think that anything I discover about it could be new."
The striped rabbit is at risk of extinction due to loss of habitat, and scientists are hoping this information will help them to understand more about the elusive rabbit.