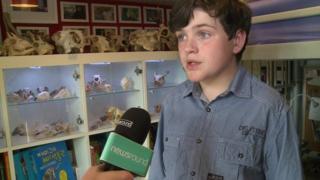 Meet the boy who collects animal bones
Meet Jake, a 13-year-old boy from Scotland, who has collected around 3,000 animal bones and skulls.
Jake began collecting bones when he was around six years old, after finding a rabbit skull.
He now has over 100 animals skulls on display in his bedroom, with people from all over the world sending him new skulls to take a look at.
Jake has also recently been named as a top conservationist in a wildlife power list, alongside the likes of Sir David Attenborough, Prince William and Chris Packham, for his conservation work.
The bone-mad boy regularly writes a blog about his adventures, which has been turned into a book.
Martin decided to go and meet him to go hunting for bones...