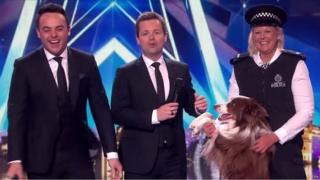 ITV
Britain's Got Talent champion, Jules O'Dwyer has said she is "shocked and surprised" by people's reactions to finding out that her winning final routine featured a stunt-dog, to help out Matisse.
Some fans of the show said it was not made clear that a different dog was used during the tightrope part of their routine.
Guide dog trainer Jules used one of her other dogs called Chase to do the tightrope trick.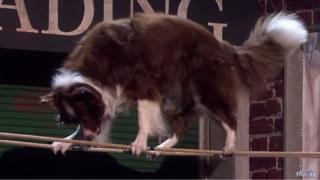 ITV
"Matisse is a little bit afraid of heights so, although he could physically do it, Chase is the dog who says, 'I'm the action dog'. He plays the double for him," said Jules.
She also said she felt "disappointed" when people thought she had hidden Chase, to make it look like it was Matisse doing the trick.
"I introduced Chase in the semi-final, and I said Chase is Matisse's best mate. Chase does the (tightrope) trick very well, Matisse prefers it lower but he's never been at that height.
"I have a choice: I have a dog that can do it at that height, or I have a dog I'd have to push in three days to achieve this," she said.
"Why put the pressure on the dog, when I already have another dog who can perform it on television?"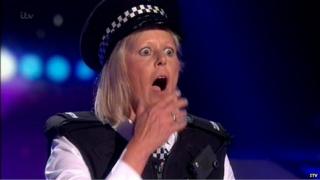 ITV
A spokesman for the producers of Britain's Got Talent said: "We are sorry if this was not made clearer to the judges and viewers at home during their final performance."
"For the final performance, as Jules has said publicly herself, Chase completed the tight-rope walking section of the act."
"During the competition viewers have seen that Jules's act involves a team of dogs, including Chase and Skippy, alongside starring dog Matisse, to perform her unique mixture of dog agility and story-telling."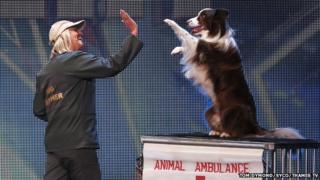 Tom Dymond/SYCO/THAMES TV
More than 13 million people watched Jules and her dogs become BGT champions.
Their prize includes a place performing at this year's Royal Variety Performance, and £250,000 prize money.