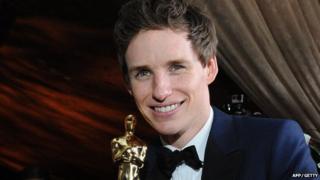 AFP/GETTY
Eddie Redmayne has been confirmed as the lead role in the new Harry Potter spin-off film, Fantastic Beasts and Where to Find Them.
The actor will play the main character Newt Scamander a 'magizoologist' who lived in New York, 70 years before Harry's story begins, and will follow his adventures as he looks for magical creatures.
The new film is based on the short book written by J K Rowling, and it will also be the first film she has helped to write.
Eddie Redmayne has won an Oscar for his acting in films, and the Director for the new magical film said he: "couldn't be more excited about the prospect of working with [Eddie]". "Eddie is a fearless actor, brimming with invention, wit and humanity".
The film won't be released until 18th November 2016, which is two days before the 15th anniversary of the first Harry Potter book, The Philosophers stone.