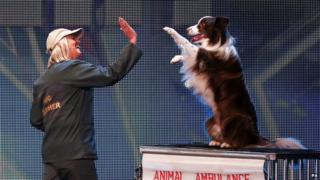 Should dogs appear on talent shows?
Matisse the dog and trainer Jules O'Dwyer won Britain's Got Talent 2015 on Sunday.
Whilst the pair celebrates their big win on the show not everyone thinks dogs performing on a TV show is a good idea.
A top vet says that people should think harder before putting dogs on camera.
But TV makers say they take welfare of animals incredibly seriously and make sure they're safe and happy.
Watch Jenny's report to find out more.