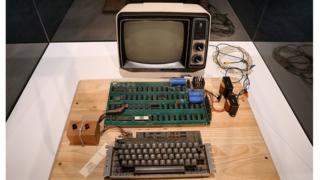 Getty Images
A rare computer handed in to a recycling plant in USA has been sold for more than £100,000.
A lady in San Francisco handed in an Apple I computer, which first went on sale in 1976.
Only 200 of the computers were ever made, and it is thought that only 63 of the original computers are still around today.
The recycling plant realised how rare the computer was, and sold it to a special collector for £131,000.
They thought the lady mustn't have realised how rare the computer was when she donated it, and have now launched an online campaign searching for the mysterious woman.
The recycling company said they would like to share half of the money they earned from selling the computer with her.