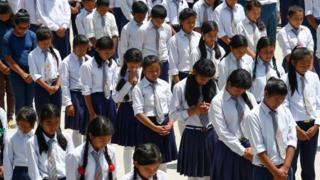 Nepalese kids go back to school
Thousand of kids in Nepal are going back to school for the first time since the devastating earthquakes hit the country in April and May.
More than 25 thousand classrooms were destroyed in the quake as schools, houses and other buildings were knocked down.
Many of the school rooms have been rebuilt using bamboo, wood and sheets.
The first lessons will try and help the children cope with what's happened.