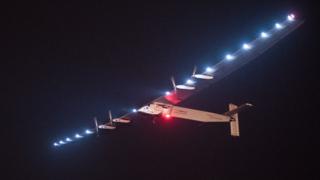 Solar plane begins epic non-stop flight
Swiss pilot Andre Borschberg has begun his attempt to cross the Pacific, from China to Hawaii, in a solar aeroplane.
The Solar Impulse Two is powered by nothing but the sun and left Nanjing in China at 6.39pm UK time.
It is likely to take Andre five to six days of non-stop flight to reach his central Pacific destination of Hawaii.
Watch Ricky's report.