A solar powered plane, that's attempting to be the first to travel around the world, has taken off on the most difficult leg of its journey.
The plane is trying to complete the longest solo journey in history by travelling for six days between China and Hawaii.
Swiss pilot Andre Borschberg will fly alone, in a cockpit the size of a phone box.
The Solar Impulse Two craft is powered by nothing but the sun's energy.
It is likely to take Andre five to six days of non-stop flight to reach his central Pacific destination of Hawaii.
He will try to stay awake for much of that time, taking only short naps.
So far on its epic round-the-world, Solar Impulse has only had to do short journeys of about 20 hours'.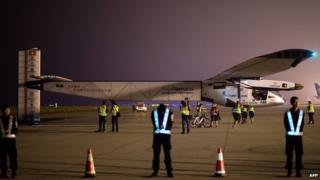 AFP
To make sure that the pilot is safe his journey will be monitored the entire way by a special control room in Monaco.
Weather experts and flight strategists will constantly update him on the best route to follow.
The aircraft has a huge wingspan of 72m - that's wider than a Boeing 747 jet - but it weighs about the same as a large car.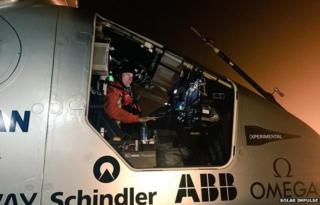 Solar Impulse
The journey is the seventh leg in the single-seat, propeller-driven aircraft's quest to circumnavigate the globe using just the energy of the Sun.
If he succeeds in reaching Kalaeloa airport, he will set several aviation records - not least the longest-duration journey for a single-seater plane.
Solar Impulse: The journey so far
LEG 1: 9 March. Abu Dhabi

(UAE) to Muscat (Oman) - 441km; in 13 hours and 1 minute

LEG 2: 10 March. Muscat

(Oman) to Ahmedabad (India) - 1,468km; in 15 hours and 20 minutes

LEG 3: 18 March. Ahmedabad

(India) to Varanasi (India) - 1,215km; in 13 hours and 15 minutes

LEG 4: 19 March. Varanasi

(India) to Mandalay (Myanmar) - 1,398km; in 13 hours and 29 minutes

LEG 5: 29 March. Mandalay

(Myanmar) to Chongqing (China) - 1,459km; in 20 hours and 29 minutes

LEG 6: 21 April. Chongqing

(China) to Nanjing China - 1,241km; in 17 hours and 22 minutes