Thousands of schools damaged during April's devastating earthquake in Nepal have begun to re-open.
More than 25,000 classrooms in some 8,000 schools were destroyed in the 7.8 magnitude quake and its aftershocks.
Many have only been rebuilt on a temporary basis using materials such as bamboo, wood and tarpaulin.
Classes will initially focus on group activities to help children recover from the trauma of the disaster.
The government closed all schools in the earthquake-affected areas of Kathmandu and its surrounding districts for the month of May because of strong aftershocks.
Hundreds of thousands of people across the country were left homeless, and many are still struggling to rebuild their lives.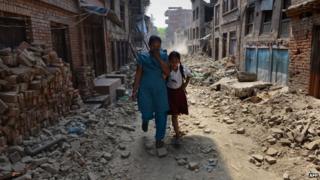 AFP
In the worst-hit districts of Gorkha, Sindhupalchok and Nuwakot, it is estimated that more than 90% of schools were destroyed.
Many children will be attending lessons in classrooms built on schools' open playing fields or buildings marked "safe" by the authorities after inspections.
School days will be short and focus on game playing and cultural activities - the United Nations has given out educational kits which include puzzles and picture books aimed at having a positive impact on the children.
About 1.2 million Nepalese children between the ages 5 and 16 have either never attended school or have dropped out.