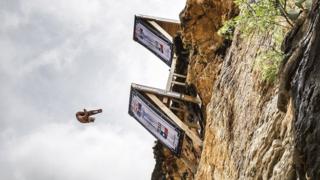 Daredevil divers compete in the US
There were spectacular scenes in the 2015 Cliff Diving World Series on Friday.
Some of the world's best divers launched themselves from platforms into Possum Kingdom Lake in Texas, US.
The UK's Gary Hunt claimed his third straight win this season with a dive from the 27-metre platform.
Gary said: ""I'm really happy to have come through and put in a good performance here."
On the women's side, American Rachelle Simpson topped the podium commenting that she was "really, really happy" with the result.
The series now heads to Copenhagen, Denmark for the next round in three weeks.
The world series is an organised event and the divers are highly trained, so please don't try this at home.