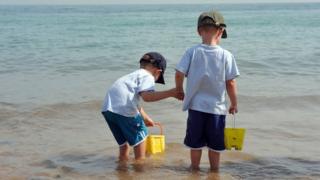 It's that time of year when you get to have a week off school.
We wanted to know what brilliant things you've been up to during your half term holiday.
You let us know about your exciting day trips, holidays abroad and what you did while hanging out at home.
Your comments
I went to Flamingo Land on Tuesday and went on the motorbikes. Sooooo scary.
Robyn, Morley ,England
In the half term I went to the park, shopping and to my friends house.
Sevda, London, England
I have been revising as we have end of year tests when we go back.
Claire, Hemel Hempstead, England
I got a pet over half term, a fish and I saw Pitch Perfect 2.
Dominic
I have been watching movies and reading books.
Kemi, London, England
I been to London.
Jamilah, Wigan, England
I went to Portugal and got a really great tan!
Becky, Plymouth, England
I went camping with my friends, my mum and my auntie.
Emma, Jersey, Channel Islands
I went to the beach with my mum, dad and sister and we went into the arcades and won lots of things.
Emma, Welwyn Garden City, England
I went to Buckingham Palace with my sister Ellie and my auntie's family to see the Queen going to Westminster for the opening of Parliament.
Jessica, London, England
I went to my friends house and up to London.
Zoe, Petts Wood, England
I went to the Gower in Wales. I stayed in a youth hostel and had lots of fun playing on the beach.
Jasmine, Hampshire, England