Fifa's 209 member associations have voted to keep Sepp Blatter as president for a fifth time.
The organisation, which runs world football, is being hit by charges of corruption, which means being dishonest in a position of power.
On Wednesday, seven senior Fifa officials were arrested at a hotel in Switzerland and charged with taking bribes of millions of dollars.
Blatter did face calls to resign, but he refused.
He insists that he is the man to "fix things" and said he's not responsible for the wrongdoings at Fifa.
Blatter under pressure
Many leaders around the world, including Prime Minister David Cameron, have said Sepp Blatter should resign.
"We've seen the ugly side of the beautiful game, and he should go," said Mr Cameron on Friday.
The head of football in Europe, Uefa boss Michel Platini is another who has called for Blatter's resignation.
Now Blatter has been re-elected, there are suggestions that some nations may even boycott the World Cup in Russia in 2018, in protest.
Blatter, who has been boss of Fifa since 1998, was up against Prince Ali bin al-Hussein of Jordan, for the presidency.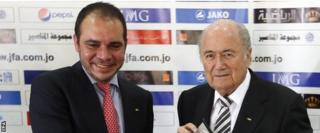 EPA
Before the voting begins, the candidates have the opportunity to speak to Fifa members for 15 minutes.
Each of Fifa's 209 member associations then gets a vote, with American Samoa having just as much of a say as nations like England.