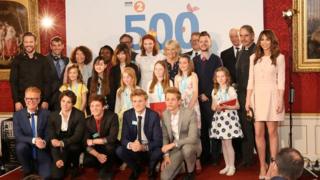 After a record 120,421 entries, six young authors have been crowned winners of Chris Evans' 500 Words competition.
The Radio 2 competition challenges under-13s to write a story in just 500 words.
This year's winners included stories about heroic pigeons, warring cake-bakers, and living with a stammer.
Gold Medal winners won a stack of books as tall as Chris Evans, Silver won a pile as tall as Alex Jones, and Bronze won their own height in books.
Here are the winners:
10-13 years category
Gold: Amabel Smith (10) - It's A Wide World
Silver: Hannah Sennouni (12) - Londoner Pigeon
Bronze: Lara Akhurst (11) - Blue
5-9 years category
Gold: Sofia Zambuto (9) - Fight For Life
Silver: Robyn Fielding (8) - The Word That Wouldn't Come Out
Bronze: Emily Potts (9) - Cake Wars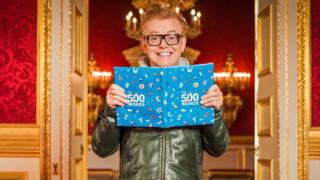 Sofia, whose story won the 5-9 years category, missed the deadline for the 2014 competition by 30 seconds.
"I'm kind of pleased I missed it now," she laughed.
On the judging panel were kids' authors Malorie Blackman and Charlie Higson, as well as former Top Gear and Wipeout presenter Richard Hammond.