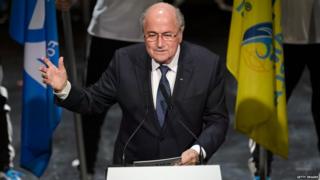 Getty Images
Fifa president Sepp Blatter says he cannot be held responsible for what has happened at Fifa, the organisation that runs world football.
There have been calls for him to resign after seven Fifa officials were accused of accepting millions of dollars in bribes.
Speaking at the opening of a big Fifa meeting, Blatter told reporters that the allegations 'bring shame and humiliation' to the organisation.
And that Fifa 'must earn trust back through the decisions we make'.
Sepp Blatter isn't accused himself, but some people say the boss should quit because the corruption took place while he was in charge.
Even the Prime Minister, David Cameron, has backed calls for Mr Blatter to go.
Uefa boss Michel Platini, in charge of European football, asked Mr Blatter to resign after a meeting of football bosses in Switzerland.