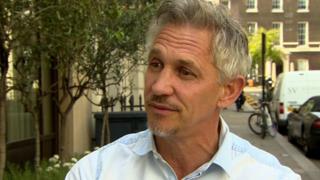 Fifa an 'embarrassment' says Gary Lineker
Match of the Day presenter Gary Lineker has called Fifa, the organisation that runs world football, an "embarrassment".
On Wednesday, police in Switzerland arrested seven senior officials from Fifa over allegations of corruption.
They're accused of accepting millions of dollars in bribes.
Some of the corruption charges relate to the 2010 World Cup in South Africa, as well as the 2011 Fifa presidential election.