Match of the Day presenter Gary Lineker has called Fifa, the organisation that runs world football, an "embarrassment".
On Wednesday, police in Switzerland arrested seven senior officials from Fifa over allegations of corruption.
They're accused of accepting millions of dollars in bribes.
Some of the corruption charges relate to the 2010 World Cup in South Africa, as well as the 2011 Fifa presidential election.
Gary said Fifa was an "ongoing embarrassment to the game" of football.
An election is due to take place on Friday to decide who will be the next Fifa president.
Current Fifa boss Sepp Blatter is expected to win the election for the fifth time.
Lineker says that Friday's election "should be suspended" until the corruption claims have been investigated.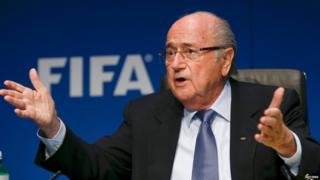 Reuters
The latest accusations are another major blow to Fifa, although spokesman Walter De Gregorio insisted the organisation was getting better.
"This is good for Fifa," he told a news conference following news of the arrests. "It hurts, it is not easy, but it confirms we are on the right track."