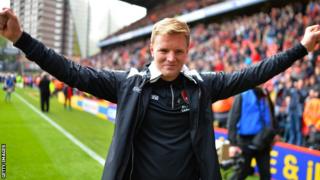 Getty Images
Bournemouth boss Eddie Howe has been named the League Managers' Association manager of the year.
Howe was honoured after leading the Cherries into the top flight for the first time in their history.
He also claimed the Championship award, with Chelsea boss Jose Mourinho given the Premier League prize.
Howe is only the second manager from outside the top flight to win the award since 1992.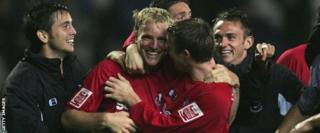 Getty Images
He said: "I can't believe it, I'm so surprised."
Liverpool manager Brendan Rodgers, who presented the award, said: "He's done a fine job, a remarkable job, and done it with style and humility."
Mourinho received the Premier League award after winning the title with Chelsea for the third time in two spells at the club.