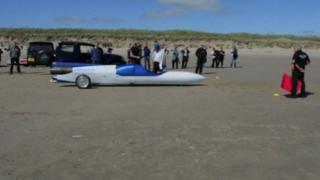 Jet-powered bike tested in Wales
A jet-powered bike has been tested in Wales as the team behind it prepare to try and break the land speed world record.
The tests have been carried out at Pendine Sands, in Wales, ahead of the record attempt in America in September.
They didn't get close to the British two-wheeled land speed record in testing but hope it could reach speeds of up to 400 miles per hour eventually.
Watch the bike in action.