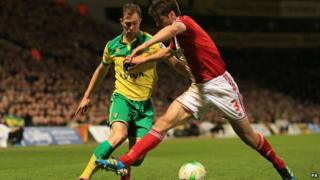 PA
The biggest game in club football takes centre-stage today as Middlesbrough and Norwich battle it out for a place in the Premier League.
Middlesbrough, who finished fourth in the Championship, are bidding to return to the Premier League after a six-year absence.
Norwich City, who came third, are attempting to bounce back at the first attempt.
The match is known as the 'most lucrative game in world football' because of the money a team can earn from being in the Premier League.
Who should win the play-off final?
I really hope Norwich win after all they did come 3rd. I'd love to see them go back to the Premier League were they belong.
Dominic, Norwich, England
I'm a season ticket holder at Middlesbrough and I'm going to the game today. I'm so excited and can't wait and definitely think Boro should win. They were in the top two all season and were unlucky not to go up automatically. Up the Boro!
Isaac, Middlesbrough, England
This chat page is now closed. Thanks for sending in your comments.