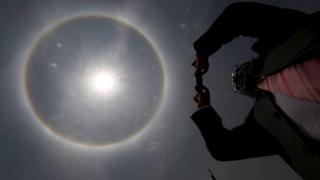 Solar halo across Mexico's skies
People in Mexico's capital were amazed on Thursday by a circular solar halo in the skies above the city's most famous monument, Angel of Independence.
According to weather experts, the natural phenomenon creates rainbows around the sun and is formed by the reflection of ice crystals.
Local media reported that the halo was seen in three cities.
Many in Mexico City took photos of the halo to record the rare event.