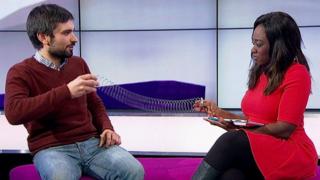 How are earthquakes measured?
After an earthquake was recorded in Kent on Friday morning we went searching through the Newsround archives to find the best explanation of how it might have happened.
The British Geological Survey said it had a magnitude of 4.2 which is 260,000 times smaller than the earthquake that hit Nepal.
No one was hurt and quakes in the UK are very rare.
One of the last ones happened in January in the East Midlands.
Watch Ayshah's interview with earthquake expert Steve Hicks from that time to find out more about how they happen.
Read more:
Watch more Newsround videos