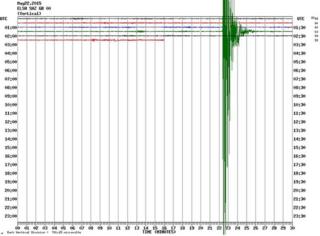 British GeologicalSurvey
An earthquake has been recorded in Kent, the British Geological Survey has said.
It had a magnitude of 4.2 on the Richter scale, which is 260,000 times smaller than the earthquake that hit Nepal.
The centre of the quake was near Sandwich and it happened just before 3am on Friday.
People in Margate, Canterbury and Southend-on-Sea, Essex, reported feeling the earthquake too.
Kent Police said a number of calls had been received but no injuries or major damage to homes had been reported.
Your comments
My whole house shook and my mum's bed shook. She woke up but I stayed asleep. My neighbour's pictures shook too. My dog stayed asleep.
Harvey, Sandwich, England
I was in bed and woke up as I heard a big booming noise. The house shook and my window rattled.
Georga, Sandwich, England
My dad and I slept through it but my mum didn't. My mum had to tell my dad in the morning! Mum said it was a very loud rumbling sound and it shook the house and contents.
Holly, Ash, England
It felt like an earthquake hit us around 2.50ish in the morning in East Tilbury. Something woke me from a deep sleep but I was confused about what but I even went outside to check all was ok. I didn't consider an earthquake.
Pete, Essex, England
My little brother felt the quake and woke up, but I didn't as I'm very a deep sleeper!
Olga, Essex, England
This chat page is now closed. Thanks for all your comments.