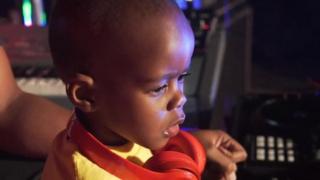 Meet South Africa's 3-year-old DJ
Meet Oratilwe, the three-year-old superstar DJ making waves in South Africa.
He still wears nappies and only speaks a few words... but that hasn't stopped him discovering a love for Dj-ing at parties and getting people dancing.
Under the nickname Arch Junior, Oratilwe has already made appearances on local radio and at gigs in his local area.
But even though his parents are supportive of his hobby, they're going to make sure he doesn't miss out at school.
Ayshah's been finding out more...