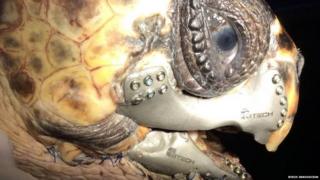 BTech Innovation
An injured sea turtle in Turkey has been fitted with a 3D-printed beak.
It's made of titanium metal and replaces the turtle's jaw, which was injured in an accident with a boat.
Staff at the recovery centre where the turtle was treated managed to get it back to full health by feeding it by hand.
But they realised the turtle wouldn't be able to feed itself once it got back in the sea and so requested the replacement beak.
A technology company in Turkey made it by taking detailed scans of the creature's head.
The turtle, which has been named Akut-3, is staying at the recovery centre where staff are checking that it is adapting to its new metal jaw.
Once they are happy the turtle will be released back into the sea.