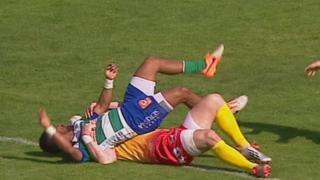 'Showboating' backfires on player
Rugby player Henry Senioli should have scored an easy try this weekend but ended up being tackled after showing off on the pitch.
Senioli, a scrum-half for Italian side Treviso pointed and smiled at Scott Williams, who plays for Welsh team Scarlets, as he ran towards the line during a crucial game in Italy.
It should have been an easy try, but the Wales international made Senioli pay for his showboating, tackling him before he could score the points.
Watch the video to see what happened when Senioli's showing off back fired.