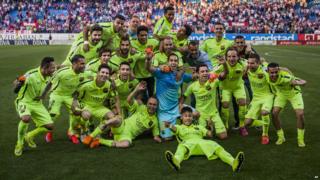 AP
Lionel Messi's wonder goal regains the league title for Barcelona, who are now on track for a cup treble.
Barcelona won the Spanish La Liga title for the 23rd time as they beat Atletico Madrid over the weekend.
Luis Enrique, the man in charge of Barcelona has now won 29 times in his clubs last 32 games.
They now sit four points clear at the top with one game left.
The Spanish champions can now look ahead to their cup final against Athletic Bilbao, before facing Juventus in the Champions League final.