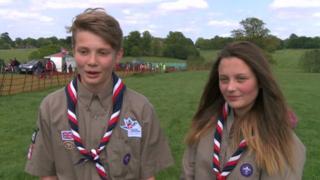 Bear Grylls meets excited scouts
The international adventurer Bear Grylls has been reappointed as the UK's Chief Scout.
He celebrated at an event in Overstone Park, near Northampton.
More than 4,000 excited people turned out to meet the man himself.
There are thought to be around 28 million scouts around the world, but Bear says there are 35,000 kids in the UK on the waiting list to join.
He wants more volunteers to help the movement deal with the massive waiting list.