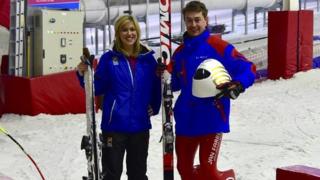 Speed skier attempts seven records
UK speed skier extraordinaire, Jan Farrell, will attempt the first of seven speed world records on Monday.
With racers reaching speeds more than 130mph - the straight-line descent of an extremely steep slope - is the world's fastest non-motorised sport.
Jan plans to attempt seven different speed skiing records in different resorts around the world over the next three years.
His intense training schedule includes 250 days in the gym, 80 days training on snow, and a strict 4,000 calorie-a-day diet.
Jenny got her skis on and went to meet Jan at one of his training sessions.