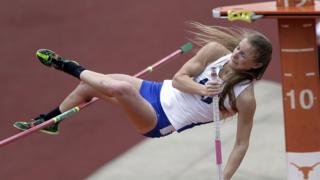 Blind pole vaulter achieves dream
A blind pole vaulter has achieved her dream by winning a bronze medal in the Texas state high school championships.
Charlotte Brown, who is 17-years-old, first took up pole vaulting because she wanted to do something a little "dangerous and exciting".
Charlotte can't see the bar as she hurtles down the track towards it, so she counts her steps and listens out for a beeper placed on the mat to know when to plant her pole and push up.
Charlotte cleared 3.5 metres to claim her medal, and was joined on the podium by her guide dog, Vador.