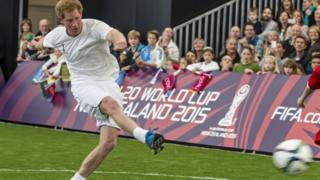 AP
On his final day on tour in New Zealand, Prince Harry scored a winning goal in the dying seconds of a football match, to the delight of a cheering crowd.
The prince took part in the five-a-side game with a group of young players to promote the Fifa U-20 World Cup.
Prince Harry has spent a week in New Zealand, his first visit to the country.
New Zealand Prime Minister John Key, who was made team coach, praised the prince's "great display of athletic ability and sheer presence".
"If you want a spot in the New Zealand team, call us any time, it's yours," he said.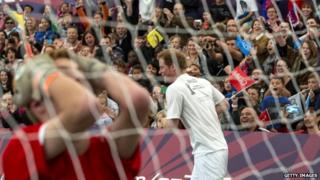 Getty Images
Prince Harry also talked to his teammates about football and asked if there were any fellow Arsenal fans.
When one boy said he supported Stoke City, the prince said: "I wouldn't have spoken up if I was you."
Prince Harry also revealed he was looking forward to the FA Cup final between his team, Arsenal, and brother Prince William's side Aston Villa.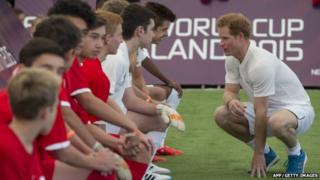 AFP/Getty Images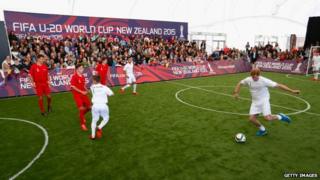 Getty Images
He then went to the AUT Millennium Institute of Sport and Health where he tried out different exercises with All Blacks rugby player Kieran Read.
These included lifting weights, playing netball, throwing a rugby ball through a tyre and rope pulling.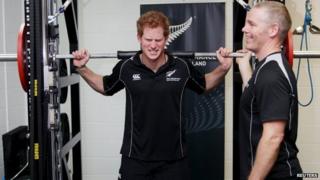 Reuters
Prince Harry landed in the country on 9 May, receiving a traditional Maori welcome in Wellington before travelling to Stewart Island, the country's most southern and remote community.
He has also spent time in Christchurch, finding out about the city's efforts to regenerate after the earthquake in 2011.