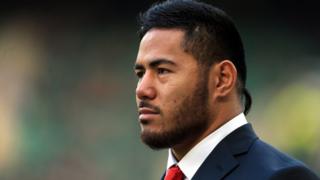 PA
England's Manu Tuilagi will miss the 2015 World Cup after admitting assaulting a police officer and causing criminal damage.
Head coach Stuart Lancaster said he would not be considered for England until 2016.
Tuilagi said: "I take full responsibility for my actions and unreservedly apologise to all those involved in the incident."
He added: "I know, as an England player, the need to conduct myself as a good role model for the game. I am very disappointed because my actions have let so many people down and I can only hope for a future chance to prove myself again."
Tuilagi had missed most of the season after suffering a groin injury but had hoped to return to the national side.