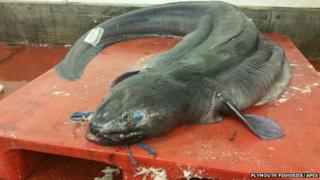 Plymouth Fisheries/Apex
A massive conger eel caught by fishermen off the coast of Devon has narrowly missed the British record.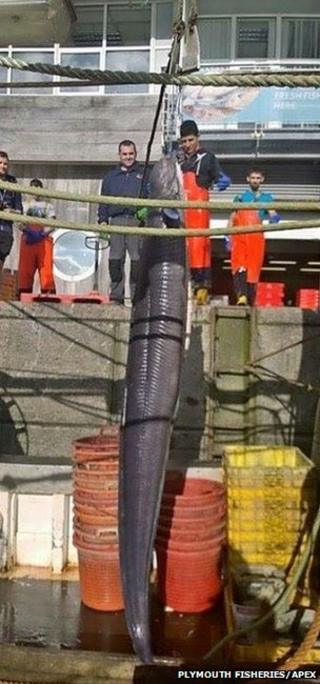 Plymouth Fisheries/Apex
The conger eel, which is over two meters long, weighed 59kg, just 1kg under the UK record.
When the eel was taken to the local fish market many people didn't think it was that big - but after a closer look they realised how massive it actually was.
Pete Bromley, manager of Plymouth fisheries, told reporters "It's a very impressive fish and would have made any anglers' day."
Generally found hiding in wrecks or on reefs and rocky ground

Despite their size and power they are not very strong swimmers

Congers can reach nearly 3m long

They will eat almost any seafood they find, from octopus to crabs to fish

They are most active at night as they leave their resting place to hunt
Source: Plymouth Fisheries/BBC Autumnwatch