Two dogs owned by actor Johnny Depp have been flown out of Australia after they were taken there without permission.
The actor is currently in the country filming another 'Pirates of the Caribbean' film.
Last month the star and his two dogs, Boo and Pistol, flew there from Los Angeles in America on a private jet.
All dogs that arrive in Australia must spend at least 10 days in a special area so they can be checked over.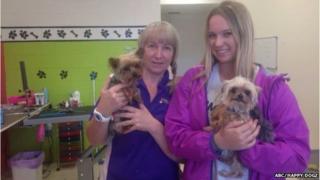 ABC/Happy Dogz
Lots of countries have these kinds of rules to prevent the spread of diseases between animals.
But on this occasion the authorities didn't even know that the dogs were in the country.
They only found out when a photo of them at a grooming parlour appeared online.
Boo and Pistol are now on their way back to America.