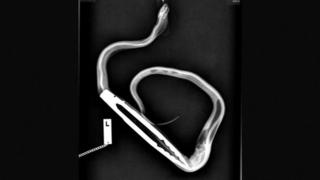 Greedy snake gobbles barbeque tongs
A hungry python had to have an operation after gobbling up a pair of barbeque tongs!
Snakes are well known for their impressive eating skills, but Winston the python took things a step too far.
His owner was feeding Winston his lunch using the tongs, but the greedy snake swallowed them too.
He had an operation at the University of Adelaide in Australia, and is recovering well.