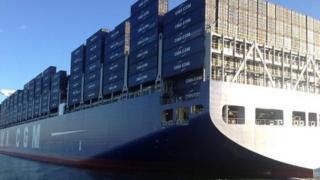 Largest British container ship docks in UK
The largest British-registered ship has arrived in Southampton as part of its first-ever voyage.
The CMA CGM Kerguelen is the third-largest container ship in the world.
Southampton is its first and only UK stop.
The ship is named after the 18th Century French sea explorer Yves Joseph de Kerguelen de Trémarec.
Ayshah's got more details.