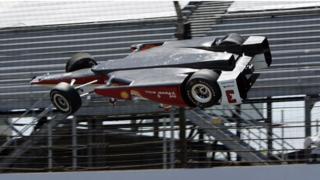 Driver walks away from scary crash
Racing driver, Helio Castroneves started his practice laps by flipping through the air in a scary crash.
He was getting ready to compete in an IndyCar race in Indianapolis, America.
Amazingly Helio climbed out of the car and walked to get checked over by doctors on his own.
Despite loosing control at 200 miles per hour Helio had no injuries at all.
"When I lost it on turn one, I just lost it,'' he said.
``I was just expecting the car to spin out backward, but when it started taking off, I was like, `Whoa, this is surprising," Helio added.
As soon as he'd been given the all clear he hopped back into the cockpit and carried on driving.
A very lucky escape.