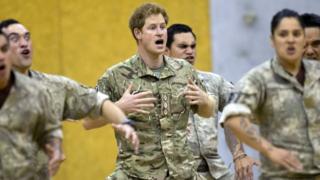 Prince Harry does the Haka
Prince Harry has taken part in a traditional Maori Haka during his tour of New Zealand.
The Haka means "fierce dance" and was traditionally performed by the Maoris before going into battle.
Nowadays the Haka is performed during special ceremonies.
The New Zealand rugby team also perform the special dance before all their international matches.
Prince Harry is currently on a week-long tour of New Zealand.