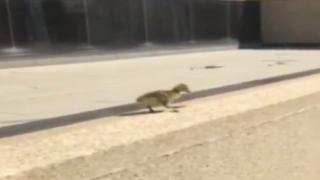 Baby geese take a big leap to safety
When a group of baby geese got stuck on the roof of a university building in Canada, fast thinking staff decided to help.
The goslings needed to leap from the first floor onto tarmac, so crash mats were placed below to create a soft landing.
It seemed to do the trick as the little birds made it safely down, bounced on to the mat and waddled off with their parents across the campus.
Finlay Macniell from the University of Calgary said: "I was just answering some emails in my office, and a goose flew up onto the roof outside my office window, and was honking loudly, and strutting back and forth, and tapping on my window."
He added: "I wasn't sure what was going on at first but then a gosling dropped from a higher level roof above my office down next to mum, and then it was quite clear what the fuss was about."
The video, posted by Calgary University, has already been viewed more than 100-thousand times.
Pictures from the University of Calgary