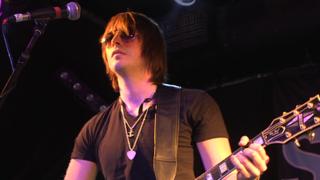 Life on stage as a blind guitarist
Jared Hara's band Symmetry has been supporting McBusted on tour recently.
The 25-year-old guitarist originally wanted to be an ice hockey player, but when he was 11 he went blind as the result of a neurological condition.
"I had to find something else to love," he told the BBC. That's when he picked up a guitar.
Jared performs without his shoes on, so he can get a better feel of where he is stood on the stage.
Practicing hard really paid off for Jared and his band. They got together in the United States just two years ago, and are now about to launch their first headline tour of the UK.
"It's really a dream come true, I never thought I'd be playing arenas," he said.
Jared says a lot of people at his concerts don't know he's blind, and he rather likes that.