AP
Kevin Pietersen will not play for England this summer after director of cricket Andrew Strauss said there was a "massive trust issue" between the two of them.
The 34-year-old cricketer is England's top run scorer of all time, racking up nearly 14,000 runs for his country.
But he was sacked by England in February 2014 after being criticised for the way he behaved and his attitude towards other players.
Over the years he's upset teammates, coaches, journalists and fans and has been accused of being too selfish.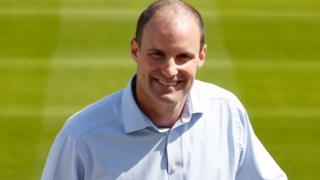 Reuters
Since he was sacked, Pietersen has been playing county cricket and has said he is "desperate" to return to the international game.
But Andrew Strauss told Sky Sports: "We decided it was in the best short-term interests for him not to be part of the team."
"There is a massive trust issue between me and Kevin. I wish it wasn't the case," he said.
England fans are split on whether he should be given another chance. Lots of them say he's England's best player and should be included, regardless of how he behaves, but others think he has a bad effect on the rest of the team.
THIS CHAT IS NOW CLOSED.