Rescue work is continuing to find survivors of the latest earthquake to hit Nepal.
The second quake hit Nepal on Tuesday, two weeks after a massive earthquake devastated the country.
The US Geological Survey said it had a magnitude of 7.3, which is not quite as severe as the first.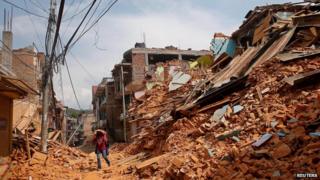 Reuters
It struck in the north of the country, close to Mount Everest, but the tremors were so strong they were felt in nearby India and Bangladesh.
Aid agencies have appealed for funding, saying Tuesday's tremor has badly hit efforts to help those already affected.
Damage
Buildings in Nepal were very badly damaged in the last earthquake, and there are fears that this new quake will have caused further damage.
Rescue helicopters have been sent to the worst affected areas to help those in need.
BBC reporter Simon Cox was in Nepal when the quake hit.
He told BBC News: "You could feel it really strongly. It went on for about 25 seconds - the ground was shaking, the birds started squawking, you could feel the buildings shaking."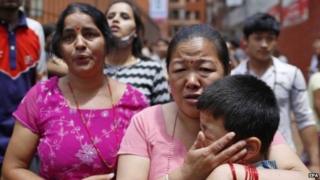 EPA
Jonathan Amos, the BBC's science reporter said: "By any stretch, a magnitude-7.3 quake is a big one."
"It's not quite as big as the quake on 25 April... but it's a major tremor nonetheless."