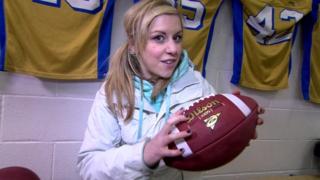 What is deflate-gate?
One of American football's biggest stars has been banned for his involvement in what's become known as 'deflate-gate.'
Tom Brady, who's the quarter back for the New England Patriots, will miss the first four games of next season.
His team have also been fined a million dollars for their part in the scandal.
It all goes back to an NFL semi-final game in February when Brady and the Patriots were accused of intentionally letting the air out of the balls to gain an advantage over their opponents, the Indianapolis Colts.
The deflate-gate row overshadowed the build up to the Superbowl, American football's biggest game, which Brady's team eventually won.
Watch Jenny's report from the time when she went to meet an American football team n the UK to find out more.
Watch more Newsround videos