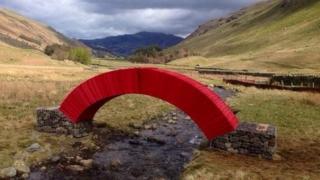 Paper bridge built in Lake District
This bright red bridge in the Lake District has been made from 22,000 sheets of paper.
The bridge weighs over four tonnes, about the same as a full grown elephant, and is a temporary art installation, set up by local artist Steve Messam.
It has been built in a similar way to that of dry-stone walls and doesn't use any glue or bolts to hold it together.
The bridge is super strong and can support the weight of people walking over it.
When the installation is over on the May 18, the bridge will be taken down and recycled.