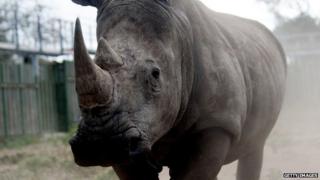 Getty Images
The South African government has warned that rhinoceros poaching is reaching record levels.
So far this year almost 400 rhinos have been killed - that's 60 more than this time last year.
Most of this is happening in the country's Kruger National Park.
The animals are hunted for their horns which can be sold for big money around the world and are often used in traditional medicine in Asia.
There have been efforts to stop it but authorities in South Africa say more needs to be done.